MJ Finnigan's impressive client base continues to expand following the completion of a contract acting as principal contractors directly to TESCO Stores plc.
We were commissioned by TESCO to carry out the demolition of the redundant Curry's and Blockbuster buildings as part of the enabling works for the redevelopment of the burntree island retail park. MJ Finnigan were presented with numerous challenges during this project which called for careful planning and sequencing of the works.
The retail park comprised of a large TESCO store, a Wickes store and a petrol station which continued to operate at full capacity for the duration of the project. This was made all the more challenging as the works were being carried out during the busy festive period, vehicular and pedestrian traffic was very high seven days a week.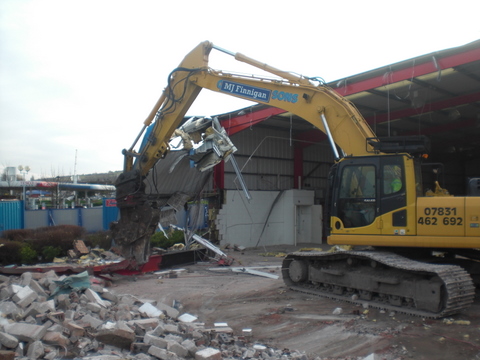 The MJ Finnigan management team on the project called for regular safety audits of the site, regular tool box talks with regards to safety, and regular progress and safety meetings. The 6 week project was completed to the clients full satisfaction with no injuries, accidents or incident to members of staff or the public allowing MJ Finnigan to continue our exemplary record in Health and Safety..