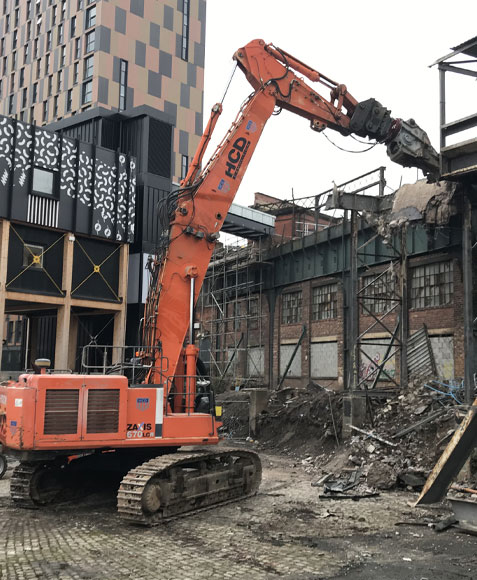 We provide a one-stop service in demolition to developers, local authorities and contractors in both the public and private sectors with project values ranging from £10,000 to £ 3,000,000 and above. We have acted as both principal contractor and specialist trade sub contractors.
We carry out the demolition of any kind of structure from residential terraced housing, to chemical manufacturing plantations, to high rise blocks of flats and industrial buildings.
Built on the vast family history and over 60 years of combined experience, investment in highly trained operative and cutting edge plant and machinery you can be sure of a job well done, on time, safely and within budget.
"On behalf of Baker Hughes I would like to thank MJ Finnigan Limited for successfully completing the above project on-time and within budget without any accidents or major incidents. Throughout the 8-week project MJ Finnigan Ltd demonstrated a high degree of professionalism in complying with our stringent safety standards and rules, liaised well with production staff and all other Baker Hughes personnel."
"On behalf of Baker Hughes I would like to thank MJ Finnigan Limited for successfully completing the above project on-time and within budget without any accidents or major incidents. Throughout the 8-week project MJ Finnigan Ltd demonstrated a high degree of professionalism in complying with our stringent safety standards and rules, liaised well with production staff and all other Baker Hughes personnel."
"On behalf of Baker Hughes I would like to thank MJ Finnigan Limited for successfully completing the above project on-time and within budget without any accidents or major incidents. Throughout the 8-week project MJ Finnigan Ltd demonstrated a high degree of professionalism in complying with our stringent safety standards and rules, liaised well with production staff and all other Baker Hughes personnel."