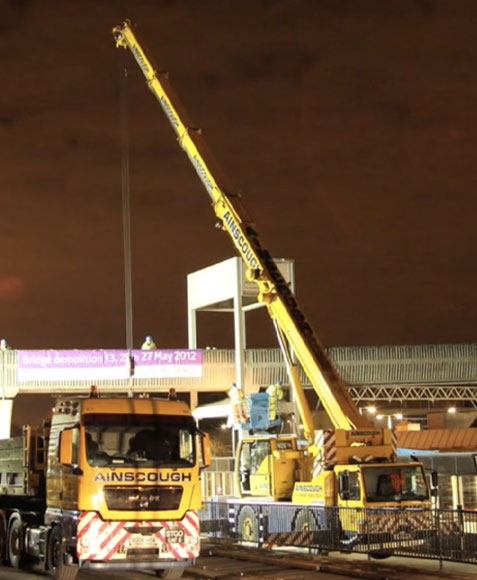 An established business built on over 60 years of experience in the demolition industry.
MJ Finnigan Limited is an established business built on over 60 years of experience in the demolition Industry. The future of any progressive company is underwritten by the calibre of the individuals occupying the key roles.
At MJ Finnigan Limited, with a dedicated management team packed with industry and on-site experience, our clients projects are in safe hands.
The company principal Mr Michael Finnigan is the former Managing Director of Connell and Finnigan historically one of the UK's largest contractors and a former Chairman of The National Federation of Demolition Contractors with a widely respected reputation throughout the industry.
He is supported by his son and fellow Director Mike Finnigan. Mike is a Business Economics graduate from Liverpool University and has had over seven years experience working within the demolition industry. Mike has also obtained a general certificate in occupational safety and health from NEBOSH.
MJ Finnigan Limited is capitalising on its well respected name and reputation and is rapidly progressing with a growing client base carrying out works throughout the United Kingdom.
MJ Finnigan Limited has a deep rooted history in the demolition industry spanning three generations from the days of Connell and Finnigan to today.
Connell and Finnigan Limited was formed by Tom Finnigan and Michael Connell in 1953. The company developed by demolishing the many air raid shelters after the war and working extensively with Manchester and Liverpool City Councils.
The company then rapidly grew in the late fifties and sixties mainly through the demolition of redundant gas works, railway stations, collieries, steel work plantations, and numerous redundant warehouses in city centres across England.
Connell and Finnigan invested heavily in cranes and other plant and machinery for both demolition work and plant hire and by the mid sixties had a fleet of over 60 machines and 35 wagons. The company then made the move from their original base in Ardwick to Duckenfield in Cheshire to a large yard with exclusive office accommodation.
The company continued to grow in the eighties into the largest Demolition and Plant Hire company in the UK, employing over a hundred and fifty men and carrying out major demolition projects for the likes of:-
CEGB (later National Power)
Powergen
Rolls Royce
Shell
British Rail
Transco
British Nuclear Fuels
CIBA Geigy
The Company successfully removed asbestos and demolished numerous major power stations at Bolton, Chadderton, Stuart Street Manchester, Huddersfield and Cliff Quay Power Station in Ipswich.
The company traded up to 1998 for over 45 years.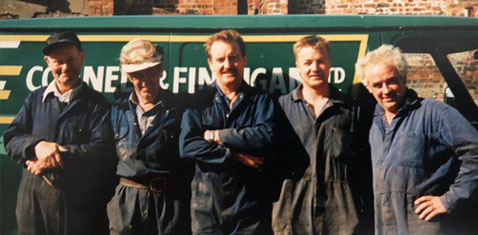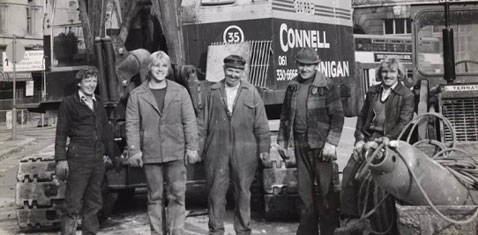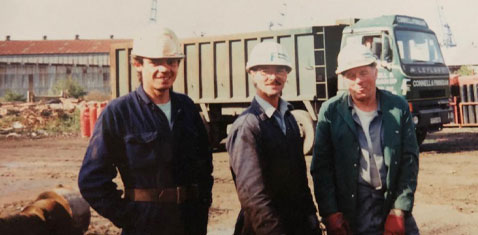 "On behalf of Baker Hughes I would like to thank MJ Finnigan Limited for successfully completing the above project on-time and within budget without any accidents or major incidents. Throughout the 8-week project MJ Finnigan Ltd demonstrated a high degree of professionalism in complying with our stringent safety standards and rules, liaised well with production staff and all other Baker Hughes personnel."
"On behalf of Baker Hughes I would like to thank MJ Finnigan Limited for successfully completing the above project on-time and within budget without any accidents or major incidents. Throughout the 8-week project MJ Finnigan Ltd demonstrated a high degree of professionalism in complying with our stringent safety standards and rules, liaised well with production staff and all other Baker Hughes personnel."
"On behalf of Baker Hughes I would like to thank MJ Finnigan Limited for successfully completing the above project on-time and within budget without any accidents or major incidents. Throughout the 8-week project MJ Finnigan Ltd demonstrated a high degree of professionalism in complying with our stringent safety standards and rules, liaised well with production staff and all other Baker Hughes personnel."