MJ Finnigan took on the significant challenge of stripping out the entire 7th floor of The Plaza Building on behalf of Bruntwood Properties in Liverpool. The Plaza Building was located in the heat of the commercial quarter of Liverpool City Centre and was occupied with some of the most well know names in business. The photograph below indicates the scale of the task we faced.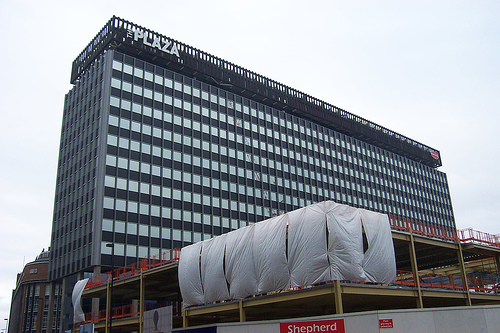 The floor plate measured 120 m x 25 m of old office space which had to be stripped back to the original core to allow for redevelopment and occupation of the new tenants. The programme was also very challenging and due to restrictions placed on working hours for the removal of waste materials necessitated working both day and night shifts.
The 6th floor below our site was occupied with client staff working from Bruntwood including senior management personnel and the 8th floor was occupied by Haliwells Law practice. The entire building was live and operational throughout our contract period. Due to the restive nature of the site all strip out works were carried out using dismantling techniques and a reverse of the construction process to eliminate the clients concerns with noise. All waste materials were removed from site out of hours via the loading bay goods lift.
The 8 week contract also included for isolation of all services to the floor plate including gas, electricity, water, fire alarm and the like. Two lift areas were also decommissioned and all plant and equipment dismantled and removed from site.
268 Tonnes of materials were removed during the course of the works including:- carpets, timbers, plasterboards, ceiling tiles, furniture, cabling, vinyl flooring, brick, block works, plastics, asbestos materials and scrap metal.
87% of the materials removed from site was recycled.